Vision Environment joins Trinity Consultants, expands service offering
26 June, 2020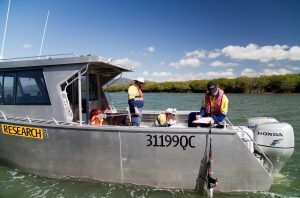 Vision Environment is thrilled to announce it has joined global environmental services group, Trinity Consultants, who have businesses and teams operating in the United States, Canada, the United Kingdom, Asia and Australia.
Trinity acquired VE in early June, adding VE's specialist skills and expertise in water quality monitoring and marine ecology to its regional portfolio.
VE founders Dr Leonie Andersen and Dr Felicity Melville will continue to manage the business while partnering with Trinity to pursue expansion opportunities.
Specifically, VE hopes to collaborate on future projects with Trinity's two other Australian firms, ASK Acoustics and Air Quality, and Air Noise Environment (ANE). Together, they are now able to offer clients comprehensive environmental monitoring services, encompassing water, air and noise.
Technical knowledge-sharing
Trinity Director Brian Burdorf, who provides oversight for the firm's operations in Australia, said Trinity was very excited about the additional resources and capabilities the VE team brings and Trinity's continued growth in Australia.
"Leonie and Felicity have developed a team of technical experts that are leaders in the field of water quality monitoring and assessment serving the marine ecology needs of their clients.
"We look forward to helping them further grow the business throughout Australia, New Zealand, and beyond."
Leonie, meanwhile, said the VE team was pleased to be pursuing new opportunities while continuing to provide high quality real-time environmental monitoring to current and future clients.
"We believe Trinity's broad span of physical locations and technical expertise will result in opportunities for expanded services for our clients and technical knowledge-sharing.
"We look forward to teaming with Trinity's Australian operations."